100% Compatible With Eye Tracking  

Anti-Blue Light will not affect Color of VR Image

We can ship to All Countries in The world

Shipping Time: Expedited 5-8 days,Standard 10-15 days
How to Order Non-Prescription Lenses?
Answer: Please select RIGHT SPH:-0.00 , LEFT SPH: -0.00
5 Coatings of our lens: 
Anti-Scratch

Anti-Static 

Anti-UV 

ANTI-Reflection

Easy to Clean
Don't know how to choose optometry information?  
Please click here for support:  How to Order
You can chat with us in the lower right corner of the website. We will be happy to answer your questions.
For English: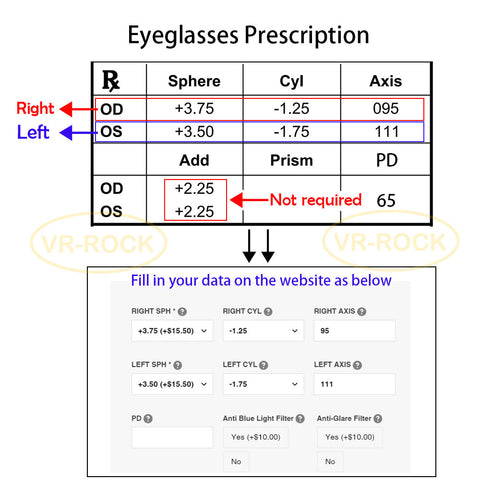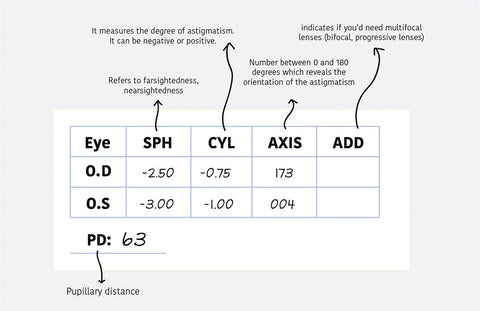 Para español: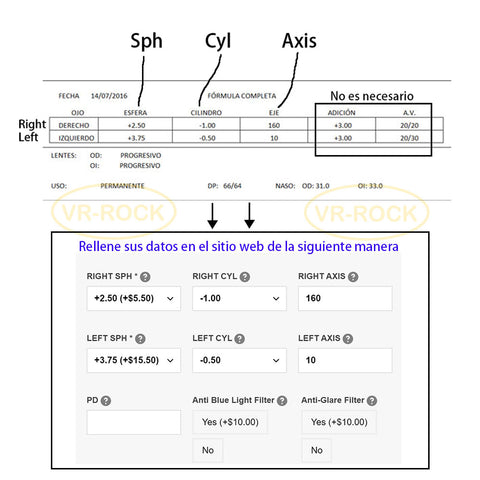 Per italiano: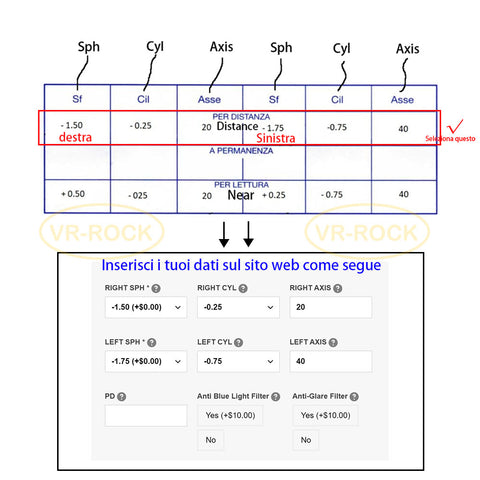 日本向け: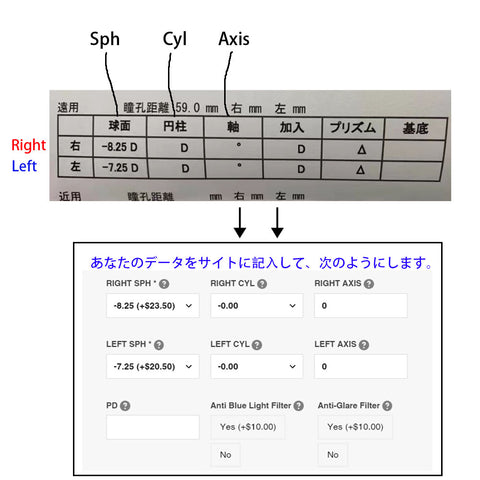 Pour le français: 
Für Deutsch: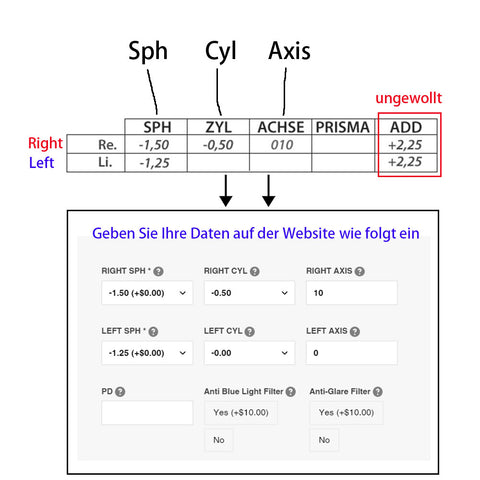 para portugues: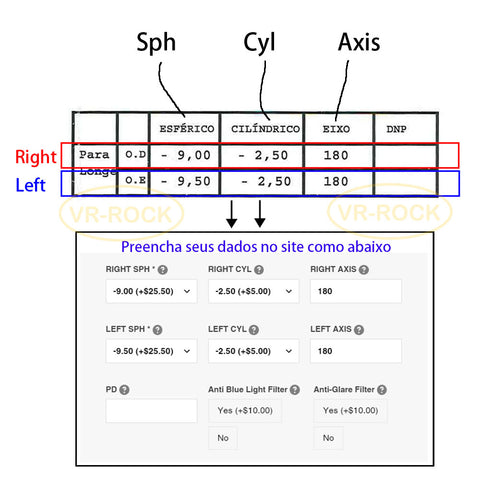 We will manufacture the lenses according to the prescription information you provided. Shall you have any inquiries on the prescription, please contact your optical practitioner for assistance. It is advised that you conduct an eye check before purchasing our lenses, which provides more accurate data on your eye's prescription.
SPH stands for sphere, which indicates myopia (Nearsightedness) and hyperopia (farsightedness). CYL stands for cylinder and AXS stands for Axis. For people with astigmatism, both CYL and AXS data should be provided.
If you previously use reader glasses in VR and they work fine, you can select the SPH with the magnification of your reader glasses. Make sure to select the SPH with plus sign if you wear reader glasses.
The + sign for SPH refers to far-sightedness, while the - sign for SPH refers to short-sightedness. Please make sure to double-check if you have picked the + or – correctly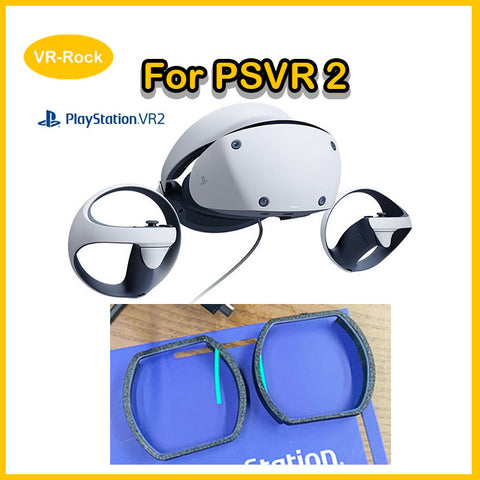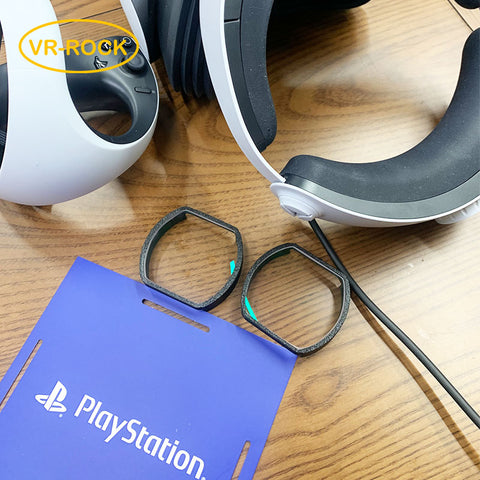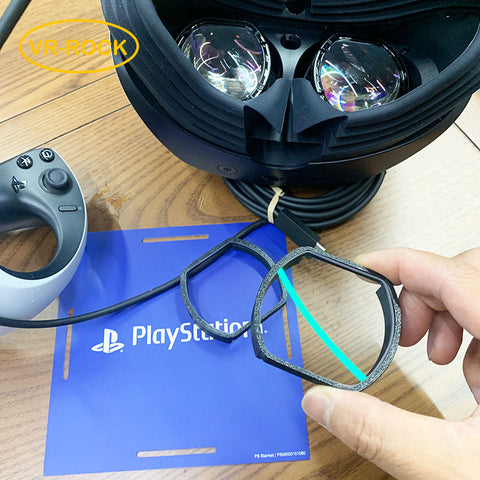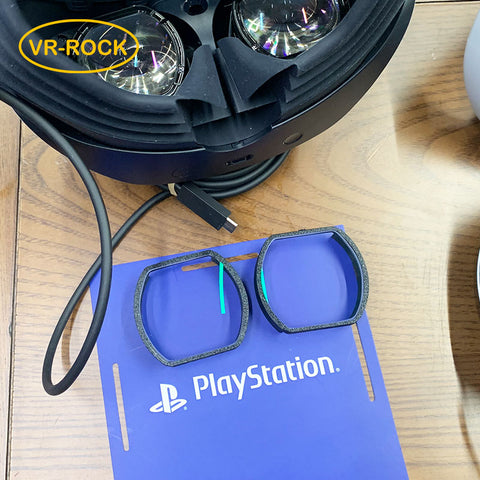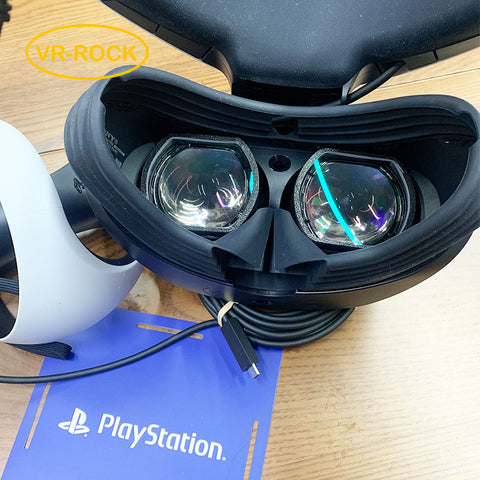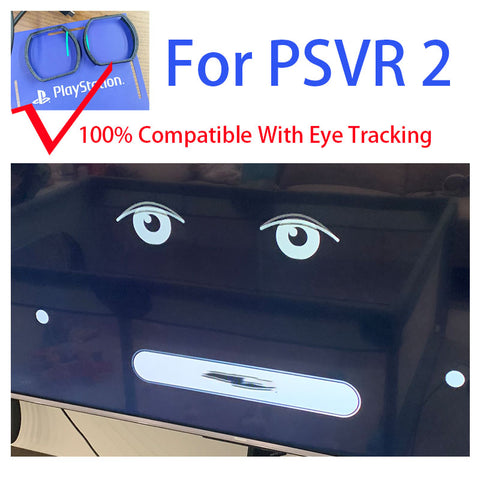 Must have for eye glass wearers.
Ditch your glasses and get these prescription lenses installed! Better clarity and no more discomfort.
For PSVR 2 Prescription Lens (Tax-Free)
PSVR 2 Savior!
What a simple and pleasant experience. I got a discount through PolishPaulVR and it is truly game changing! I can actually appreciate the PSVR 2's clarity. Super easy order process, convenient case for traveling, good price, and quick shipping. Couldn't be happier!
Prescription lens
Perfect prescription. Easy to snap on. Just as advertised. Thanks
Fit Perfect!
Many thanks, a worthwhile upgrade to leave my glasses off.